Barrister Babu: Eye opening twist for Thaku Maa accepts Bondita as bliss (Future Story)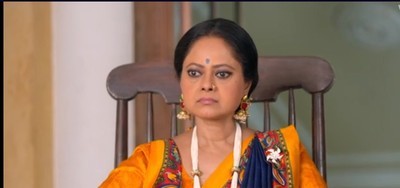 Barrister Babu: Anirudh life lesson to Thaku Maa as Bondita saved her from fire accident
Barrister Babu is Indian tv drama which telecasted on Colors Tv, where its upcoming track of the show will bring much drama.
Latest tracks Fire catches Thaku maa room where Anirudh forced Bondita to use water pot and save Thaku Maa,
While Bondita is much frightened from using water as Jal devta and tagged herself as bad omen owing to her periods.
Anirudh and Bondita finally saved Thaku Maa
Resulting which Thaku Maa gets joyful that because of Bondita she got saved, here Anirudh schools Thaku Maa about her old customs drama that can be changed.
Recalling Anirudh words again Thaku Maa gets moved but still her rebellious attitude is not ready to accept that Bondita and her periods are pure one.
It would be interesting to see how Thaku Maa will get rid of her negative superstitions and old custom drama.
Stay tuned with us for more exciting updates and upcoming twists in the show.
Latest Barrister Babu Updates