Anupama: New entry of Maid to spice up Vanraj Kavya's life (Latest Spoilers Alert)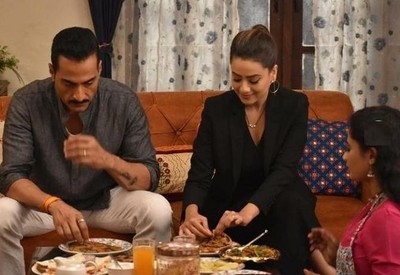 Anupama: New entry of Maid to spice up Vanraj Kavya's life
The upcoming episode of Star Plus popular serial Anupama will showcase an interesting twist and turn.
It was earlier seen that Kavya accepted Anupama's challenge where she wants to work smartly.
Kavya to win the challenge from Anupama decides to hire a maid and calls her home to cook for her and Vanraj.
Maid comes and cooks well for Vanraj Kavya a complete three-course meal.
Vanraj and Kavya are happy to have food.
Kavya turns overconfident wants to keep Anupama away
While Anupama still challenges Kavya that its not so easy to handle the maid but Kavya is overconfident that she is smart than Anuoama where she can handle everything well.
Will this new entry of maid keep Vanraj Kavya united?
Will maid obey Kavya?

It would be interesting to see what happens next on the show.

Stay tuned to serialgossip.com for more updates.
Latest Anupama Updates