Mehndi Hai Rachne Wali: Sharda-Pallavi's last meeting to unite Raghavi (Upcoming Episode)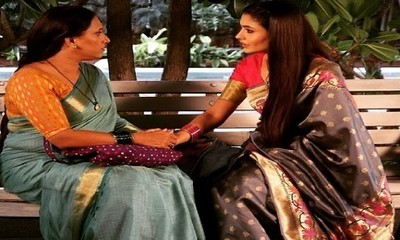 Mehndi Hai Rachne Wali: Sharda-Pallavi's last meeting to unite Raghavi (Raghav and Pallavi)
A lot is about to happen in Raghav and Pallavi's happen in the upcoming story of the show Mehndi Hai Rachne Wali
Raghav and Pallavi part ways on a bitter note as Raghav failed to unite Pallavi with her family and as per their one month deal he frees her from their marriage.
Pallavi leaves for her brother's house to Kolhapur but this is not the end.
Pallavi meets Sharda before leaving Hyderabad and this becomes the life-changing meeting for her.
Sharda lessons Pallavi
Sharda trusts in Raghav after realizing his loyal, innocent and kind-hearted side.
Thus, she doesn't want Pallavi to leave him because she believes that he is the perfect life-partner for her.
Sharda lessons Pallavi and convinces her to stay back.
So, what will be Pallavi's final decision is what will change the storyline.
To know more, make sure you don't miss the next update at SerialGossip.com
Latest Mehndi Hai Rachne Wali Updates