Sasural Simar Ka 2: Aarav pushes Simar out of his bedroom (Upcoming Episode)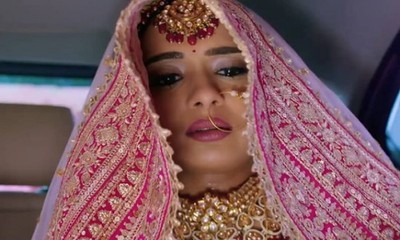 Sasural Simar Ka 2: Aarav pushes Simar out of his bedroom
In the upcoming episode of Sasural Simar Ka 2, a lot is going to happen with Simar just in few hours of her marriage.
Aarav refuses to accept his marriage with Simar when the Oswal family ousts Simar.
Badi Simar lessons Aarav where after Aarav brings Simar back home.
However, Aarav refuses to give Simar a place in his heart because he loves Reema.
Meanwhile, when it comes to the bedroom sharing, Aarav doesn't want to share his room with Simar which he got decorate to surprise Reema.
Things dramatically take troll when Aarav gets so pissed off that he grabs Simar's hand and pushes her out of his bedroom.
Simar faces a traumatic situation
Poor Simar silently leaves the room as she doesn't want to trouble Aarav anymore.
Aarav surely accepted Simar as his wife but will their namesake marriage relationship ever bud love between them?
Stay up to date with SerialGossip.com for the latest twists and turns.
Latest Sasural Simar Ka 2 Updates