Saath Nibhana Saathiya 2: Anant Gehna get intoxicated in love shock Hema (Upcoming Episode)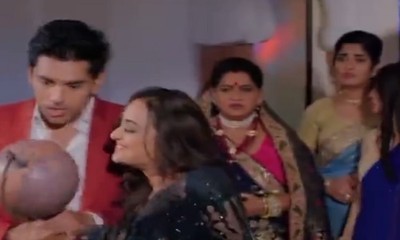 Saath Nibhana Saathiya 2: Anant and Gehna get intoxicated in love shock Hema
The upcoming episode of Saath Nibhana Saathiya 2 is going to see witness a major twist in Pankaj and Kanak's anniversary party.
Anant is totally mesmerized seeing Gehna in the black sheer saree.
Meanwhile, Hema mixes some drugs in Gehna and Krishna's cake to frame them in the bedroom.
However, Anant eats Krishna's cake and here Anant and Gehna get intoxicated.
Hema instigates the family saying Gehna and Krishna are in the bedroom but when the family finds Anant with Gehna, Hema gets super shocked.
Anant and Gehna to find truth
Krishna also gets stunned seeing Anant and Gehna intoxicated while he already doubts Hema for long.
Anant and Gehna surely get rescued this time but will they ever come to know the truth or Hema will pose any new problem?
Stay tuned with us for more updates and the latest news.
Latest Saath Nibhana Saathiya 2 Updates