Barrister Babu: Anirudh Bondita spooky place suffers Thaku Maa hypnotization (Future Story)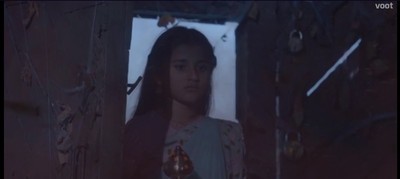 Barrister Babu: Anirudh Bondita spooky place suffers Thaku Maa hypnotization
Barrister Babu is interesting show telecasted on Colors Tv which is up for some interesting twists and turns ahead as Thaku Maa makes big move against Bondita.
Latest track showed Thaku Maa plans to do Boindita sudikaran so that she can get rid of past marriage tag of marriage.
Amid which Thaku maa sends Bondita to some spooky khandar place where she sends Bondita alone by intoxicating her again.
Anirudh follows Bondita there new twist ahead
At same Anirudh gets along Bondita at same place and gets baffled knowing how Thaku Maa hypnotized Bondita again.
On other side there comes, poisonous twist where snakes come toward Bondita where Anirudh gets into action to safeguard her, and plans that he will take Bondita from this all evilness .
It would be interesting to see what will be next Twist in Bondita and Anirudh bond.
To catch stay tuned with us for more updates and exciting twists in other shows too.
Latest Barrister Babu Updates