Kyun Utthe Dil Chhod Aaye: Kayanat bad signal, Veer bids final adieu (Future Story)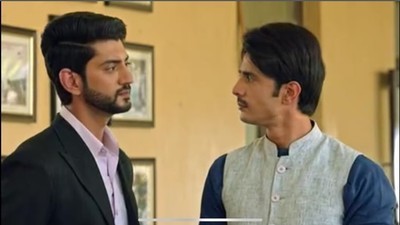 Kyun Utthe Dil Chhod Aaye: Kayanat bad signal, Veer bids final adieu
Kyun Utthe Dil Chhod Aaye is popular show in Sony Tv telecasting Zaan Khan, Kunal Jai Singh and Gracy Goswami in main leads, which is up for some interesting twists.
Latest track of the show shows, Vijendra lays death trap for Randhir where he wanted to burn Randhir alive.
Vijendra is aware that if Amrit will be indanger then for sure Randhir will follow her to save her.
Veer gets into action to safeguard Randhir and Amrit
Here, Vijendra planned to end Randir and Amrit where Veer gets into trap and sacrificed his life while saving Amrit and Randhir.
Thus Kunal Jai Singh aka Veer will bid final adieu to show where Nalini already got kayanat signal that her only one son will stay alive.
It would be interesting to see what will be next Twist in KUDCA.
To catch stay tuned with us for more updates and exciting twists in other shows too.
Latest Kyun Utthe Dil Chhod Aaye Updates