Kyun Utthe Dil Chhod Aaye: Eye opening twist for Veer with Amrit kindness (Upcoming Story)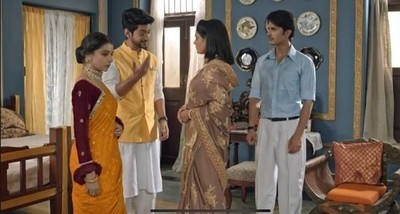 Kyun Utthe Dil Chhod Aaye: Eye opening twist for Veer with Amrit kindness
Kyun Utthe Dil Chhod Aaye is Indian tv drama which telecasted on Sony Tv, where its upcoming track of the show will bring much drama and suspense in the show.
It was seen that how Veer intoxicated Nalini food so that later he can trap Randhir in all this and make Nalini throw him out.
While further Randhir and Veer face off is there where Veer is not leaving any stone unturned against Randhir.
Amrit saved Veer from big humiliation ahead
But here Randhir double crossed Veer and put him under same blame of attempt to kill Nalini which is going to twisted by Amrit.
Further Amrit decided to safeguard Veer from this humiliation as she don't want Veer to get down in Nalini eyes.
Will Veer get lesson of Amrit kindness for him?
It would be interesting to see what will be Amrit next move to stop Veer from all drama.
Stay tuned with us for more exciting updates and upcoming twists in the show.
Latest Kyun Utthe Dil Chhod Aaye Updates