Pandya Store: Tough time for Suman and Dhara to sort problem (Upcoming Twist)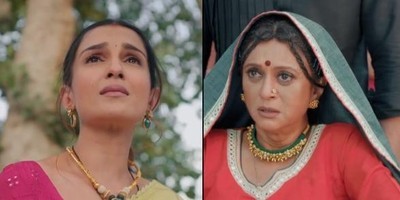 Pandya Store: Tough time for Suman and Dhara to sort the problem
The upcoming episode of Star Plus popular serial Pandya Store will showcase an interesting twist and turn.

It was earlier seen that Suman comes to know about Dhara's major decision of kitchen partition and the way she bashed poor Shiva and Krish for their mistake.
Suman turns furious on Dhara as Rishita put up the matter in wrong manner.
Suman thus makes a major decision and decides to kick out Dhara from Pandya Family as she tried to break the family.
Gautam too tries to stop Suman and Suman is more powerful and Gautam cannot go against Suman.
Dhara thus decides to accept the blame and charge and leaves the house.
However Shiva Dev Krish Rishita Raavi realizes their mistake where they have changed now.
Dhara to leave as per the promise made to Suman
At the same time they understood why Dhara made the shocking decision of partition.
But its very late as Dhara has to leave as per the promise made to Suman.
Tough time for Suman and Dhara to sort the problem but will Dev Shiva Krish Gautam Rishita Raavi come up with some solution?
It would be interesting to see what happens next on the show.

Stay tuned to popular entertainment website serialgossip.com
Latest Pandya Store Updates