Kyun Utthe Dil Chhod Aaye: Kaveri takes oath & throws Amrit out of house (Upcoming Story)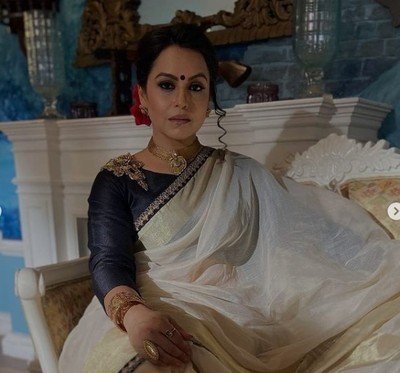 Kyun Utthe Dil Chhod Aaye: Kaveri takes oath & throws Amrit out of house
Kyun Utthe Dil Chhod Aaye is popular show in Sony Tv telecasting Zaan Khan, Kunal Jai Singh and Gracy Goswami in main leads, which is up for some interesting twists.
Latest track of the show shows, Amrit has turned as Veer's widow where randhir wanted to marry her while Amrit refused him so.
In show new plot is there with new entry where Gurdip Punjj will be seen playing role of Kaveri Pratap Singh.
Kaveri plans to never unite Randhir and Amrit ahead
Kaveri has turned negative in Randhir and Amrit life where Vijendra and Kaveri plans to never let Randhir and Amrit get united ahead,
Here comes the new twist where to defeat Randhir Kaveri decided to attack his weakness aka Amrit to win this race.
Where Kaveri even throws Amrit out of house while Randhir stands by her and brings her back to house.
It would be interesting to see what will be next Twist in KUDCA.
To catch stay tuned with us for more updates and exciting twists in other shows too.
Latest Kyun Utthe Dil Chhod Aaye Updates