YRKKH: Ranveer advices Sirat to never loose Kartik & old self (Upcoming Twist)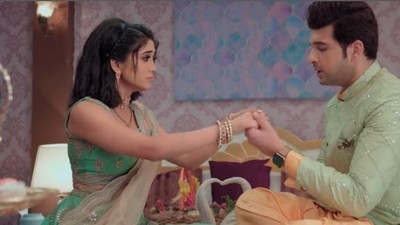 Yeh Rishta Kya Kehlata Hai: Sirat and Ranveer emotional chit-chat admires bond with Kartik
Yeh Rishta Kya Kehlata Hai is one of the most popular show on Star Plus which is rocking these days, and its plot is showing how Sirat is much perplexed with her emotions.
Latest is showing how Sirat is much confused for her emotions where Ranveer confronts Sirat for such changed behavior.
Where Ranveer who knows Sirat well is aware that something is fishy with her behavior and wanted to get old Sirat back.
Sirat and Ranveer shares talk about Kartik and his friendship
However where further Ranveer advices Sirat to never ever loose Kartik as he is best companion that she ever got.
Later Ranveer talked about Kartik and wanted Sirat stay with Kartik and never leave him for just Narendra Chavan and his tantrums.
It would be interesting to see what will be next Twist in show, what will be YRKKH.
To catch stay tuned with us for more updates and exciting twists in other shows too.
Latest Yeh Rishta Kya Kehlata Hai Updates