YRKKH: Narendra pushes Sirat in Kartik's arms to plot disgusting (Upcoming Twist)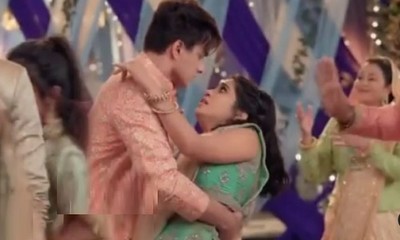 Yeh Rishta Kya Kehlata Hai (YRKKH): Narendra pushes Sirat in Kartik's arms to plot disgusting
The longest running TV show Yeh Rishta Kya Kehlata Hai is gearing up for some major twists and turns in the storyline.
Kartik is confused over Sirat's ignorance when he decides to know her confession in this anniversary party.
Further in the party when Narendra executes his nasty plan to defame Kartik and Sirat's relationship,
Things dramatically take toll when Narendra pushes Sirat in Kartik's arms.
Sirat's character in big danger
Sirat slips and falls into Kartik's arms when Narendra takes advantage of the situation and gets their intimate pics clicked.
Poor Sirat and Kartik fail to understand Narendra's nasty plot while Narendra who is determined to defame Sirat's character gets big evidence against her.
Kartik and Sirat's new challenge is going to get worse as Narendra's dirty conspiracy makes the situation complicated for them.
So what will Kartik do to protect Sirat and if the situation will go out of their control?
Keep reading entertainment news website Serialgossip.com for everyday update and latest news.
Latest Yeh Rishta Kya Kehlata Hai Updates