Barrister Babu: Anirudh attacked Bondita with sword later ousts her (Upcoming Story)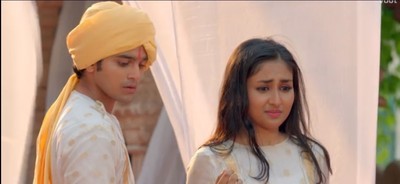 Barrister Babu: Anirudh attacked Bondita with sword later ousts her
Barrister Babu is interesting show telecasted on Colors Tv which is up for some interesting twists and turns ahead as show heads for leap and post twist twists.
Latest track of the show showed that Boidta is also not ready to leave Anirudh as it is and decided to gain back his love and care.
However where further, Anirudh and Bondita face off is there where Bondita wanted Anirudh to talk to her where Anirudh refused so.
And here Bondita writes letter for Anirudh where Anirudh throws each of her letter out and Bondita gets shattered.
Bondita reached Anirudh house in disguise
However where further big twist is there where Bondita reached Anirudh house in disguise where she is learning practice of sword from Anirudh.
Later in their fight, Anirudh attacks Bondita with sword where hurt Bondita leaves the place and gets warning from Anirudh to go away else it will be much bad for her to live with such pain.
It would be interesting to see what will be next Twist in Bondita and Anirudh bond.
To catch stay tuned with us for more updates and exciting twists in other shows too.
Latest Barrister Babu Updates