YRKKH: Viral Kartik Sirat's photo brings new storm (Latest News)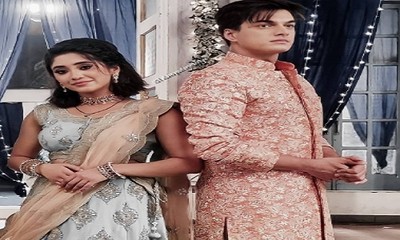 Yeh Rishta Kya Kehlata Hai (YRKKH): Viral Kartik (Mohsin Khan) and Sirat's (Shivangi Joshi) photo brings new storm
In the latest story of Star Plus show Yeh Rishta Kya Kehlata Hai, a lot is going to happen in Kartik and Sirat's life.
Earlier it is seen that how Ranveer forcefully makes Sirat attend Manish and Swarna's anniversary party.
Narendra at the same time is determined to use this opportunity against them.
When amid the dance celebration Kartik and Sirat come closer and end up holding each other's hand, what Narendra does is what will hit Ranveer and Sirat's relationship harder.
Narendra traps Kartik and Sirat
Shockingly, Narendra gets Kartik and Sirat's photo clicked and this viral photo is where soon the new storm will hit Kartik, Sirat, and Ranveer harder.
Narendra's plan is going to succeed this time and is only going to worse everything.
Will Kartik be able to protect Sirat after Ranveer will badly misunderstand Sirat over some mere fabricated photos?
Keep reading the entertainment news website Serialgossip.com for everyday updates and the latest news.
Latest Yeh Rishta Kya Kehlata Hai Updates