Sanjivani: Juhi sacred to face Anjali's anger huge twist ahead (Upcoming Episode)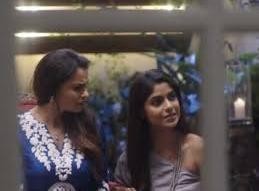 Sanjivani: Anjali miffed with Juhi
The upcoming episode of Star Pus' daily popular show Sanjivani is going to witness a lot of ups and downs.
It was earlier seen that Shashank (Mohnish Bahl) and Juhi (Gurdeep Kohli) are feeling awkward together.
It seems that Juhi is still not able to forgive Shashank for firing her from Sanjivani due to Rahul.
She feels that Shashank has done her immense wrong by supporting Rahul and leaving her alone.
On the other hand Anjali is constantly feeling jealous to see Juhi and Shashank together and will leave no chase to humiliate her and make her feel low.
Juhi feels humiliated by Anjali
Will Shashank and Juhi be able to unite or not?
It will be interesting to see what will happen next in the show.
Keep watching Serialgossip.com for more exciting news and updates.
Latest Sanjivani Updates