Kasauti Zindagi Ki 2: Real reason behind Mohini's master plan Nivedita Bajaj marriage (Upcoming Twist)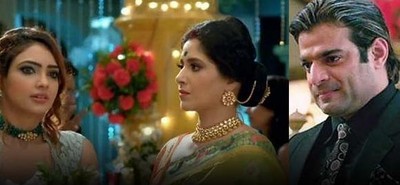 Kasauti Zindagi Ki 2: Real reason behind Mohini's master plan Nivedita (Pooja Banerjee) Bajaj (Karan Patel) marriage
The upcoming episode of Star Plus popular serial Kasauti Zindagi Ki 2 will showcase interesting twist and turn.
As per the recent storyline it is seen that Mohini and Nivedita are up to something new.
Mohini questions Nivedita if she has forgotten Anupam post-divorce.
Nivedita still loves Anupam but lies clearly that she forgot Anupam and does not think of him anymore.
Mohini comes to know about the lie but she wants Nivedita to move ahead in her life and marry Bajaj.
Mohini and Nivedita plans to reap benefits from Bajaj
Yes, Mohini makes cunning plan to separate Bajaj and Prerna so that she can get Nivedita married to Bajaj to reap benefits from him.
It would be really interesting to see what Mohini does to separate Bajaj and Prerna.
Will Mohini get successful in separating Bajaj and Prerna?
Will Bajaj leave Prerna and marry Nivedita?
Well, lets wait and watch for the upcoming next new twist in Kasauti Zindagi Ki 2.
Latest Kasauti Zindagi Ki 2 Updates