Barrister Babu: Bondita re-marriage breaks Anirudh heart credits Thaku Maa (Upcoming Twist)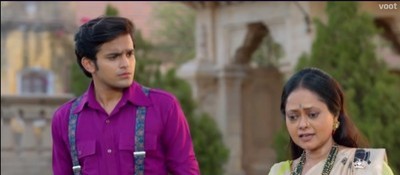 Barrister Babu: Bondita re-marriage breaks Anirudh heart credits Thaku Maa
Barrister Babu is interesting show telecasted on Colors Tv which is up for some interesting twists and turns ahead Thaku Maa stands evil amid Anirudh and Bondita.
Latest track of the show is showing how Thaku Maa wanted Trilochan to seek apology from her by blackening his face and on donkey.
Where Thaku Maa puts ugly deal forth Anirudh either make Trilochan do what she wants else she will snatch Bondita from him forever.
Anirudh heart broken with Thaku Maa confession of Bondita re-marriage
However where further Thaku Maa confessed Anirudh that she planned to get Bondita re-married to someone so that she can cut out her wings and dream of becoming barrister.
This twist breaks Anirudh heart where Anirudh is not ready to accept all this and gets furious over Thaku Maa decision.
It would be interesting to see what will be next Twist.
To catch stay tuned with us for more updates and exciting twists in other shows too.
Latest Barrister Babu Updates