Barrister Babu: Bondita GAME OVER says Thaku Maa with hard slap (Future Story)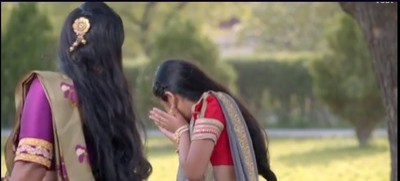 Barrister Babu: Bondita GAME OVER says Thaku Maa with hard slap
Barrister Babu is Indian tv drama which telecasted on Colors Tv, where its upcoming track of the show will bring much drama.
Latest track showed how Thaku Maa played well with Bondita and Anirudh where she gets suspicious toward Anirudh words for Roopa murder.
Amid this Thakur Maa made Bondita play smart game to do Anirudh makeover as lady and later gets shocked eyeing Anirudh as Roopa.
Thaku Maa hard slap for Bondita with GAME OVER twist
Owing to all this drama, Thaku Maa revealed Bondita that now her game is over where later Thaku maa slapped Bondita hardly and uttered Roopa- Anirudh all drama.
This is going to cook new drama as Thaku Ma will plan punishment for Bondita and later plans to keep Anirudh away from her.
It would be interesting to see how Anirudh and Bondita stands against Thaku maa.
Stay tuned with us for more exciting updates and upcoming twists in the show.
Latest Barrister Babu Updates