Kumkum Bhagya: Tanu big betrayal for Pradeep called off marriage with Abhi (Future Story)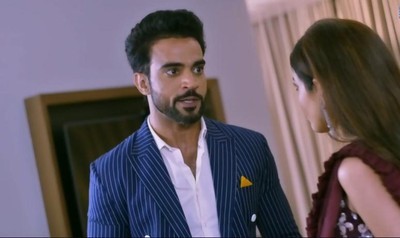 Kumkum Bhagya: Tanu big betrayal for Pradeep called off marriage with Abhi
Kumkum Bhagya is popular show on Zee T which is up for some exciting twists and turns ahead where Pradeep and Tanu gets together against Abhi and Pragya.
Latest track showed that Pradeep and Tanu hatched new planwhere duo called judge and lawyer to the marriage so that Abhi and Pragya cant do anything foil.
At same Pradep is doing all this to get money from Tanu where Tanu is doing all this for Abhi and stoop to lowest to plan against Pardeep.
Tanu calls police to marriage Pradeep gets hell furious
Meanwhile, Somdutt also entered there with police where Pradeep assumed this al happening because of Tanu.
Pradeep is not ready to let Tanu go this betrayal and confessed that he will ruin her marriage with Abhi too if anything bad happens to him.
Will Pradeep call off Abhi and Tanu marriage after this drama?
Stay tuned with us for more exciting updates and upcoming twists in the show.
Latest Kumkum Bhagya Updates