Kumkum Bhagya: Not lover Pradeep mimicry for Abhi makes deal with Tanu (Upcoming Story)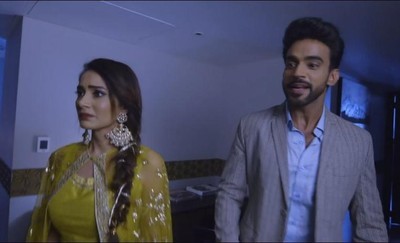 Kumkum Bhagya: Pradeep and Tanu deal over Abhi and Pragya's separation ahead
Kumkum Bhagya is popular show on Zee T which is up for some exciting twists and turns ahead where Pradeep has entered back and is here to threaten Tanu there.
Latest track showing Tanu gets much baffled eyeing Pradeep where she assumed that Pradeep is no more and is marrying Abhi.
Here comes the never expected twist where Pradeep did Abhi mimicry and confessed Tanu how much he loves Pragya, where Tanu gets baffled with Pradeep such drama.
Pradeep and Tanu makes ugly deal ahead over Abhi
Further, Tanu wanted Pradeep to let her marry Abhi and in return she can give him anything where Pradeep gets in lure.
Owing to which deal Pradeep wanted Tanu to marry whom she wants just give him her course of money aka marry Abhi in lieu of money.
Excited to watch upcoming track of this, share your reviews with us.
Stay tuned with us for more exciting updates and upcoming twists in the show.
Latest Kumkum Bhagya Updates