Anupama: Rakhi stop Kinjal from turning old Anupama (Upcoming Story)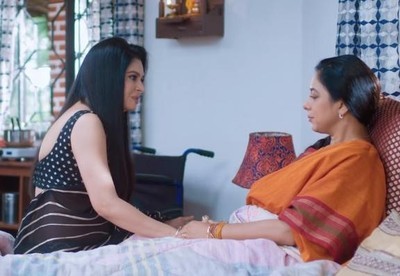 Anupama: Rakhi stop Kinjal from turning old Anupama
The upcoming episode of Star Plus popular serial Anupama will showcase an interesting twist and turn.
It was earlier seen that Kavya and Kinjal fight for a mixer when Rakhi pity seeing the girls fighting like kids just for a thing.
Rakhi feels sad seeing Kinjal's state and goes to meet Anupama.
Rakhi thus informs Anupama about Kinjal who has topped in college and is a very brilliant student.
Rakhi wants Kinjal to live good life and focus on career
Further Rakhi does not want Kinjal to sacrifice her career and take care of a household.
Moreover Rakhi does not want Kinjal to turn the next old Anupama.
Anupama gets hurt but she is sure that Kinjal is can handle both work and home quite well.

It would be interesting to see what happens next on the show.

Stay tuned to popular entertainment website serialgossip.com
Latest Anupama Updates