Ghum Hai Kisi Ke Pyaar Mein: Sayi exits to test Virat's true love (Upcoming Story)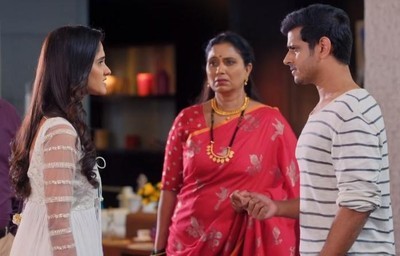 Ghum Hai Kisi Ke Pyaar Mein (GHKKPM): One more time Sayi exits to test Virat's true love
The upcoming episode of Star Plus popular serial Ghum Hai Kisi Ke Pyaar Mein will showcase an interesting twist and turn.

It was earlier seen that Sayi opens up Pakhi and Virat's true love story before the entire Chavhan family.
However Virat and Pakhi does not open their mouth and frame Sayi wrong before entire Chavhan family.
Sayi is much shocked that Virat keeps quiet and proves that she is wrong and Pakhi is correct.
Sayi feels much heartbroken this time and decides to exit from Chavhan House once again.
This time Sayi goes to Pulkit's house and informs him about the entire mess.
Virat worries for Sayi for not returning from college
On the other side Virat worries for Sayi who has not returned from college.
Sayi wants to test Virat's love this time and wants to see if he worries for her by not informing him about her whereabouts.
Will Virat go to look for Sayi?
Will Virat pass Sayi's love test this time?

It would be interesting to see what happens next on the show.

Stay tuned to popular entertainment website serialgossip.com
Latest Ghum Hai Kisi Ke Pyaar Mein Updates