Anupama: Kinjal Kavya's Cat Fight Rakhi jumps in to calm the girls (Upcoming Story)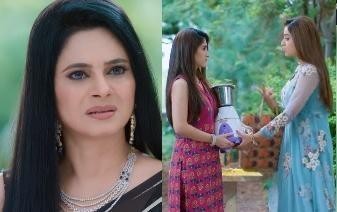 Anupama: Kinjal Kavya's Cat Fight Rakhi jumps in to calm the girls
The upcoming episode of Star Plus popular serial Anupama will showcase an interesting twist and turn.

It seems Kavya decides to convince Vanraj and cook good food for him.
Kavya wants to cook better than Vanraj and keep Vanraj only for her.
However when Kavya was returning home picking up veggies she witnesses Kinjal taking the mixer appliance away.
Kavya and Kinjal fights like kids
Kavya stops Kinjal when she reveals about the kitchen appliances belong to Anupama and hence she is taking it.
Kavya and Kinjal lands into Cat Fight where the duo is seen pulling the mixer.
Rakhi jumps in to the situation to calm the girl and fill sense in them.

It would be interesting to see what happens next on the show.

Stay tuned to popular entertainment website serialgossip.com
Latest Anupama Updates