Kyun Utthe Dil Chhod Aaye: Randhir double crossed Veer traps in poison kand (Upcoming Twist)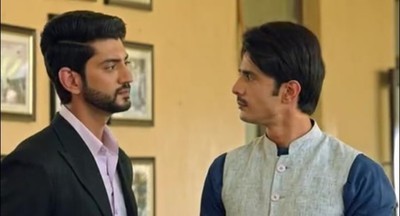 Kyun Utthe Dil Chhod Aaye: Randhir double crossed Veer traps in poison kand
Kyun Utthe Dil Chhod Aaye is Indian tv drama which telecasted on Sony Tv, where its upcoming track of the show will bring much drama and suspense in the show.
Ongoing track showed that Veer wanted to get Amrit and her love where he decided to keep Randhir away from her.
This can only be possible if Nalini throws Randhir out of house and where Veer comes with plan to kick Randhir out.
Veer poison drama for Nalini gets backfired
Here shocking twist takes place where Veer intoxicated Nalini food so that later he can trap Randhir in all this and make Nalini throw him out.
But here Randhir played game well where he smartly trapped Veer in same trap that he laid for Randir.
How Randhir will fight against evil Veer?
It would be interesting to see what will be Amrit next move to stop Veer from all drama.
Stay tuned with us for more exciting updates and upcoming twists in the show.
Latest Kyun Utthe Dil Chhod Aaye Updates