Barrister Babu: Bondita playfully exposed Anirudh truth forth Thaku Maa (Upcoming Twist)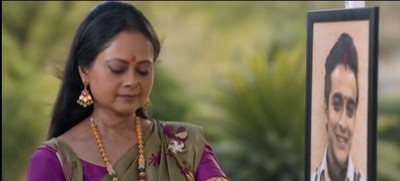 Barrister Babu: Bondita playfully exposed Anirudh truth forth Thaku Maa
Barrister Babu is Indian tv drama which telecasted on Colors Tv, where its upcoming track of the show will bring much drama.
Latest track showed how Thaku maa gets suspicious toward Bondita and Anirudh and Roopa's relation and planned evil.
No doubt Thaku Maa wants Anirudh to stay mum about Roopa murder where she executed her plan.
Where further, Thaku Maa made Bondita and Thapur to play where she put Anirudh's picture over there and wanted Bondita to do makerover.
Bondita makes Anirudh picture exactly like Roopa
Shockingly same happened as Thaku Maa planned where Bondita put kajal, bindi and lipstick over Anirudh picture along with hair and dupatta.
Eyeing all this, Thaku maa confessed that now Bondita is trapped and later hardly slapped her for doing all drama with her.
It would be interesting to see how Anirudh will tackle all these problems.
Stay tuned with us for more exciting updates and upcoming twists in the show.
Latest Barrister Babu Updates