Barrister Babu: Thaku Maa alleged under charges of killing Roopa (Upcoming Story)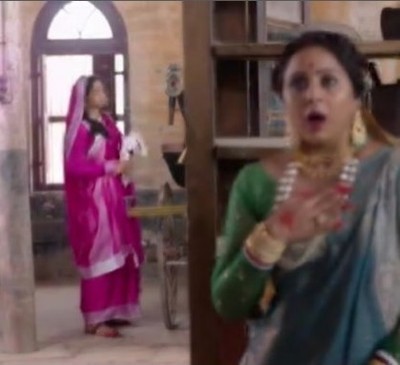 Barrister Babu: Thaku Maa alleged under charges of killing Roopa
Barrister Babu is Indian tv drama which telecasted on Colors Tv, where its upcoming track of the show will bring much drama.
Ongoing track showed how Roopa being man truth gets exposed forth RimJhim where Rimjhim gets baffled.
Where further, Roopa brings this truth forth Thaku Maa where later irked Thaku Maa runs behind Roopa to catch her.
Anirudh smart game trapped Thaku Maa in own web
Shockingly, Anirudh aka Imposter Roopa gets aware that Thaku Maa gets his truth where he intentionally jumps into deep water,
Making Thaku Maa sure that Roopa committed suicide because of Thaku Maa where later Anirudh blackmails Thaku Maa over same.
Till this time Thaku maa is totally unaware that Roopa is Anirudh where she assumed that Roopa killed herself because of her.
What will be Thaku Maa further move against this?
It would be interesting to see how Bondita and Anirudh will face this drama.
Stay tuned with us for more exciting updates and upcoming twists in the show.
Latest Barrister Babu Updates