Barrister Babu: OMG! Thaku Maa turned Anirudh lame puppet over big reason (Future Story)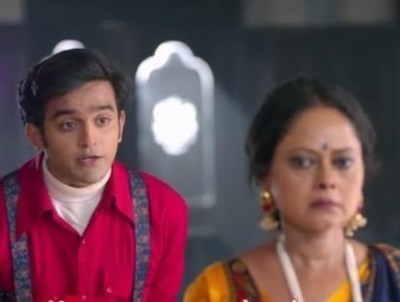 Barrister Babu: Anirudh blackmails Thaku Maa for killing Roop and under murder charges
Barrister Babu is Indian tv drama which telecasted on Colors Tv, where its upcoming track of the show will bring much drama where Anirudh is up to threaten Thaku Maa.
Ongoing track showed how Anirudh managed to escape from Thaku maa eyes where he showed that Roopa committed suicide.
Making Thaku Maa sure that Roopa committed suicide because of Thaku Maa where later Anirudh blackmails Thaku Maa over same.
Thaku Maa turned Anirudh lame puppet over the same
However where further big twist is there where Thaku maa has turned as Anirudh lame puppet to keep her being murderer truth hidden.
At same Anirudh will make perfect plan to escape Bondita from Thaku Maa trap and this is going to be super exciting to watch.
It would be interesting to see what will happen in show.
To get alerted what will happen next stay tuned with us for more exciting updates and upcoming twists in the show.
Latest Barrister Babu Updates