Kumkum Bhagya: Abhi pleads forth Pragya to escape Tanu out of jail (Upcoming Story)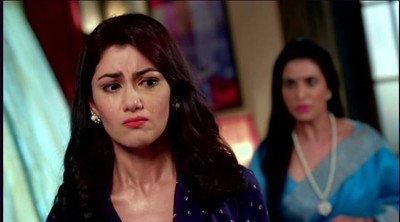 Kumkum Bhagya: Pragya and Abhi face off with but Abhi pleads Pragya to bring Tanu out of jail
Kumkum Bhagya is popular show telecasted on Zee Tv, which is up for some interesting twists and turns ahead in the show where Pragya is much eager to meet Abhi where she wanted to take revenge from him.
It was also seen that Tanu is behind bars where its Pragya who lodged FIR against Tanu and gets her arrested for stealing her purse,.
Amid which Dadi wanted Abhi to do anything and get Tanu out of jail else there will be much havoc ahead.
Here Abhi is doing everything to bring Tanu out but useless as police confessed Abhi that only Pragya can bring her out by taking her FIR back.
Abhi reached Pragya house to plead and get Tanu out of jail
However where further Abhi reached Pragya house and meets with Sushma where he wanted them to take their FIR back.
Sushma on other side gets baffled knowing that Abhi is Pragya's husband who is pleading forth her to bring Tanu aka his second wife out of jail.
It would be interesting to see what will be next Twist in show Kumkum Bhagya.
To catch stay tuned with us for more updates and exciting twists in other shows too.
Latest Kumkum Bhagya Updates