Sasural Simar Ka 2: Aarav-Simar into ugly scuffle over Simar new job selection (Future Story)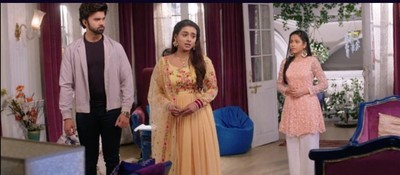 Sasural Simar Ka 2: Simar and Aarav face off with new issue named singing job opportunity
Sasural Simar Ka 2 is interesting show telecasted on Colors Tv which is up for some interesting twists and turns ahead where Simar and Aarav decided to do post marital affairs for one month.
It was seen that Simar is having big passion for singing where some days back Simar gave auditions for Radio Jockey's singing and it was her and her family dream to enter in singing career.
Fortunately Simar gets the job and gets selected in singing position in Radio station where Simar is much elated eyeing her dream getting fulfilled.
Where Aarav gets hell furious and smashed Simar's decision of job and wanted her to leave all this.
Simar and Aarav on loggerheads for Simar'e new job
As Simar gets selected as singer in Radio station, Aarav is fumes with anger as no one from Oswal house like music at all.
On all this, Simar confessed Aarav that she will leave him and his house after one month then why she have to leave her career in singing for Oswals.
It would be interesting to see what will be next Twist what will Simar and Aarav's further decision for their relation.
To catch stay tuned with us for more updates and exciting twists in other shows too.
Latest Sasural Simar Ka 2 Updates