Anushka Sharma with hubby Virat Kohli giving us chilling vibes amid quarantine (Latest Trending News)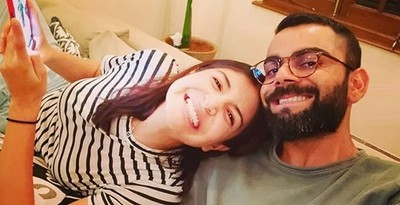 Anushka Sharma with hubby Virat Kohli giving us chilling vibes amid quarantine
Indian cricketer Virat Kohli and his wife Anushka Sharma always stay in limelight giving their fans the perfect relationship goals.
Where amid the quarantine, they are requesting and urging people to stay home from the very first day,
Anushka Sharma and Virat Kohli are making the most of their times.
From posting goofy pictures with each other on their instagrams to finding love time together is all giving us chilling vibes.
Posting pic with wife Anushka Sharma, Virat Kohli exclaims that might be their smiles are fake but they are not.
Meanwhile Anushka Sharma posting cuddling pics with hubby Virat Kohli, she describes the current feeling priceless.
Anushka Sharma and Virat Kohli's quarantine time
The couple is making of their romance time where recently Anushka Sharma shared a video in which she turned Virat's hair dresser while giving him a new look amid quarantine.
For more celeb updates and latest trending news, keep reading entertainment news website Serialgossip.com
Latest Anushka Sharma Updates