Sanjivani 2: Sid and Ishani's stethoscope wala love to bring Sid-Ishani closer (Upcoming Twist)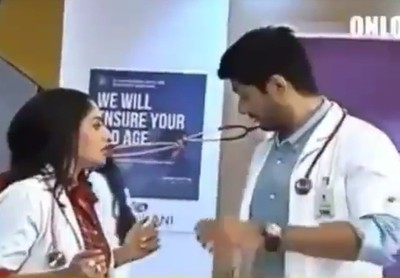 Sanjivani 2: Sid and Ishani's stethoscope wala love to bring them closer
The exciting twists and turns in the daily soap opera Sanjivani 2 will bring the loving couple close to each other.
Recently seen how Sid and Ishani start planning for Jessica and Jignesh marriage.
Therefore, this marriage track will add twister in their love tale.
On the other hand, it seems everything around Sid and Ishani are hinting towards their love conspiracy.
Soon Sid and Ishani will mistakenly dump into each other and their stethoscopes will get entangled.
Sid to confess his feelings
Ishani has realized her feelings for Sid but Sid is still unaware of his feelings.
Ishani and Sid will come closer amid solving the entanglement of their stethoscopes.
It will be very interesting to watch how soon Ishani will make Sid confess his feelings to her.
Till then stay tuned to serialgossip.com for more updates and latest news.
Latest Sanjivani 2 Updates