Yeh Rishta Kya Kehlata Hai: Kartik propose to remarry Naira Vedika in tension (Upcoming Twist)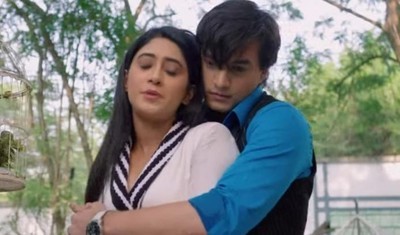 Yeh Rishta Kya Kehlata Hai: Kartik (Mohsin Khan) propose to remarry Naira (Shivangi Joshi) Vedika (Pankhuri Awasthy) in tension
The upcoming episode of Star Plus show Yeh Rishta Kya Kehlata Hai will showcase interesting twist and turn.
It was earlier seen that Kartik confesses his love feelings to Naira.
But before Naira could reply anything, Vedika breaks their moment of love.
Later when Kartik gets injured Naira fails to suppress her love feelings.
Naira openly confesses her love to Kartik stating that she loves her very much.
Kartik gets happy hearing Naira's love confession and they lives their moment of love for a while till Vedika once again break their moment.
Vedika slips in depression knowing Kartik's wish
Moving ahead Vedika gets to know Kartik's desire to marry Naira once again.
Vedika slips in depression and gets confused over Kartik's desire.
Will Vedika let Kartik Naira reunite and remarry?
Keep tuned to serialgossip.com for more udpates.
Latest Yeh Rishta Kya Kehlata Hai Updates