Yeh Hai Chahatein: Rajeev Prisha in tears recalling Mahima's past (Upcoming Episode)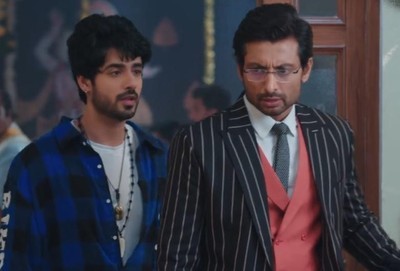 Yeh Hai Chahatein: Rajeev Prisha (Sargun Kaur Luthra) in tears recalling Mahima's past
Star Plus show Yeh Hai Chahatein will showcase interesting twist and turn.
It was earlier seen that Saaransh falls from tree and starts bleeding.
Rajeev witness the entire scenario and rushes him to City Hospital.
Rajeev calls Prisha to hospital for the treatment of Saaransh.
Prisha gets discussing Saaransh's case with the doctor where she meets the doctor who performed Mahima's delivery.
Rajeev gets to overhear Prisha and doctors conversation where he gets shock to know that Saaransh is Rajeev and Mahima's son.
Rajeev (Indraneil Sengupta) cries for Mahima
Rajeev recalls his love story with Mahima and cries bitterly thinking that he lost Mahima forever.
Rajeev wants to live life with Saaransh and wants to fight with everyone.
It would be really interesting to see if Yuvraj lets Rajeev and Saaransh unite.
Keep reading serialgosssip.com for more updates.
Latest Yeh Hai Chahatein Updates