Kahaan Hum Kahaan Tum: Sonakshi makes big mistake handover money to Yashwant (Upcoming Episode)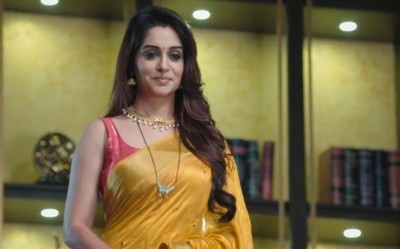 Kahaan Hum Kahaan Tum: Sonakshi (Dipika Kakkar) makes big mistake handover money to Yashwant
Star Plus show Kahaan Hum Kahaan Tum will showcase shocking twist and turn.
It was earlier seen that Sonakshi gets blackmailed by Yashwant again and again.
Sonakshi finally goes to meet Yashwant but Yahswant witness Sumit and he escapes.
Yashwant thus nabs Sonakshi in Rohit's hospital where he asks one crore from Sonakshi to keep his mouth shut.
Sonakshi thus withdraws one crore money from her account and handover the same to Yashwant without even informing the same to Rohit.
Sonakshi's big step without revealing truth to Rohit (Karan Grover)
Rohit is completely trapped as Yashwant does not have any proof with regards to Naren and Pooja.
It would be really interesting to see if Sonakshi comes to know about her big mistake.
Will Yashwant stop blackmailing Sonakshi or will he continue demanding money?
Let's wait and watch for the upcoming twist in Sonakshi's life.
Latest Kahaan Hum Kahaan Tum Updates