KHKT: Rohan's evil practice to forcefully kill Pari's child Rohit in action (Upcoming Twist)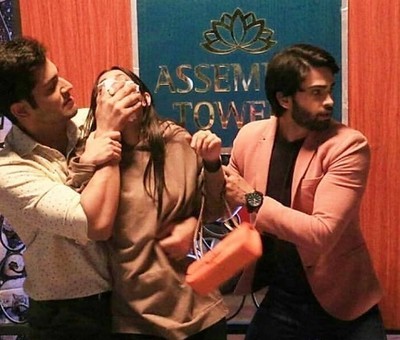 Rohan Rahul's evil practice to forcefully kill Pari's child Rohit in action in Kahaan Hum Kahaan Tum
The popular TV show Kahaan Hum Kahaan Tum is going to see a high time track in the storyline.
The ups and downs in the current sory are already keeping the viewers hooked to the show that now Pari's pregnancy will add more spice in the tale.
Rohan gets a huge shoked on finding Pari's pregnancy with his child that he gets scared of losing Tanya and the greed of money which he has from the family.
Things take troll and Rohan takes help from his friend Rahul to kidnap Pari.
Rohit protects Pari turns to find truth
Rohan and Rahul get hold of Pari in the Assembly Tower thus they kidnap Pari making her unconscious.
However there Rohit arrives and before Rohan could kill Pari's unborn child, he leaves seeing Rohit.
Rohit saves Pari and takes her to Sonakshi's home but will he be able to find Pari's pregnancy and the culprit being Rohan.
Let see how Sonakshi and Rohit will protect Pari.
To stay up to date with the popular TV shows and Hindi serial, stay tuned to serialgossip.com
Latest Kahaan Hum Kahaan Tum Updates