Kahaan Hum Kahaan Tum: Rohit Sonakshi finally save Naren and gets Nishi arrested (Upcoming Episode)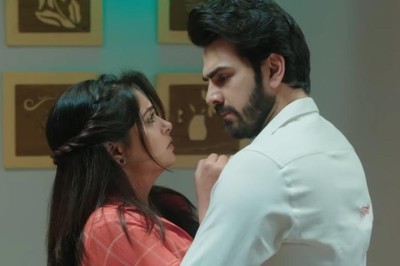 Kahaan Hum Kahaan Tum: Rohit (Karan Grover) Sonakshi (Dipika Kakkar) finally save Naren and gets Nishi (Kishwer Merchant) arrested
The upcoming episode of Star Plus serial Kahaan Hum Kahaan Tum will showcase Nishi's The End.
It seems Rohit and Sonakshi comes home with a master plan to save Naren.
Rohit ass Sonakshi to keep Nishi busy at home in the Holi where he takes Naren to hospital to remove the pace maker.
Rohit succeeds taking Naren to hospital and performs the surgery quickly.
On the other side Nishi catches Sonakshi where Sonakshi does not lose courage and expose Nishi before entire family.
Veena feels bad to distrust Sonakshi and oust her from Rohit's life
Rohit returns back home and expose Nishi's crime before Veena who slaps Nishi.
Veena further begs for apology before Sonakshi and fall on her leg.
Sonakshi as usual shows big heart and forgives Veena gets reunited with entire family and Rohit.
Nishi also gets arrested by Police and loses all her wealth which he earned by wrong means.
Keep reading serialgossip.com for more interesting updates.
Latest Kahaan Hum Kahaan Tum Updates