Netizens targets Sonam Kapoor for defending privilege by Karma as logic!! (Latest Update)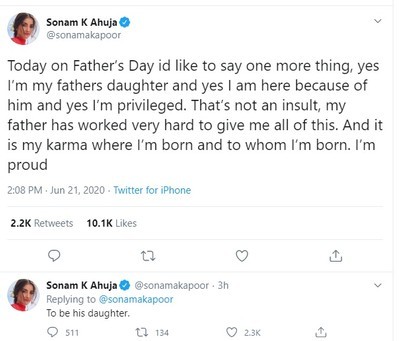 Sonam Kapoor's latest post on twitter is trending on internet where Sonam Kapoor posted caption on fathers day for Anil Kapoor
With caption," Today on Father's Day id like to say one more thing, yes I'm my fathers daughter and yes I am here because of him and yes I'm privileged. That's not an insult, my father has worked very hard to give me all of this. And it is my karma where I'm born and to whom I'm born. I'm proud to be his daughter".
Netizens trolling Sonam Kapoor over the same
However amid all this SOnam Kapoor is getting trolled for justifying and defending privilege by using karma as logic,
Not only this Sonam again posted that Bullying, misguided vengeance and the need to further your own agenda not caring about collateral damage. This is all your Karma, may god and the universe forgive you,
Karma is biggest leveler, we are where we are because of our Karmas and we are born and go through what we go through because of our Karmas. Everyone who is spouting hate its your karma, all of you are in my prayers and I thank god everyday for where I'm born too, if you really knew what Hindu philosophy and Dharma is about you wouldnot be so foolish, you are just damaging your self and quality of your life.
Stay tuned with Serial Gossip.com
Latest Sushant Singh Rajput Updates