Sonam Kapoor replying to all hate she is receiving in DMs is shocking (Latest Update)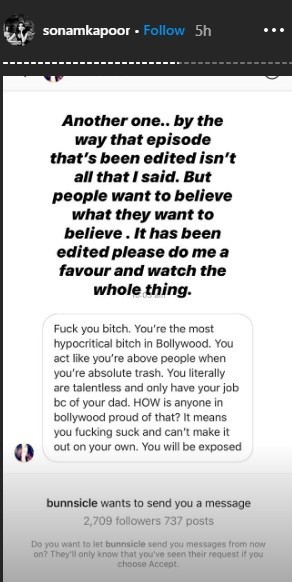 Sonam Kapoor's tweet on Karma and nepotism gained her much hate over internet
Sonam Kapoor's latest post on twitter is trending on internet where Sonam Kapoor posted caption on fathers day for Anil Kapoor
However amid all this SOnam Kapoor is getting trolled for justifying and defending privilege by using karma as logic,
Not only this Sonam again posted that Bullying, misguided vengeance and the need to further your own agenda not caring about collateral damage. This is all your Karma, may god and the universe forgive you.
Sonam Kapoor replaying to all negative DMs she is getting
Amid all this it seems that Sonam Kapoor is much irritated with all the negativity comments and messages she is getting,
Owing to which Sonam Kapoor strated posting all the screenshots of msgs to her profile with perfect replies.
Seems, Sonam Kapoor is all set to fight back against all negativity
Stay tuned with Serial Gossip.com for more exciting updates and upcoming news and trends.
Latest Sushant Singh Rajput Updates