Kumkum Bhagya: Difficult time for Ranbir to leave Prachi post major twist (Upcoming Twist)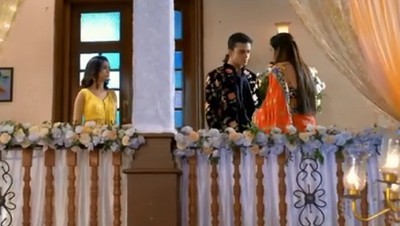 Kumkum Bhagya: Difficult time for Ranbir to leave Prachi post major twist
Popular running top TV show Kumkum Bhagya is going to see biggest twist in the storyline of Ranbir and Prachi's love story.
Ranbir and Prachi are going through a hard time as Maya is once again turning hurdle in their love story.
Ranbir and Prachi come together but get interrupted by Maya's mother who gives an open warning to Ranbir.
Maya and the Choubeys are turning deadly to get Maya married to Ranbir that Maya's mother warns Ranbir to break all ties with Prachi as now he is Maya's to-be husband.
Ranbir confronts Prachi
Ranbir is now in dilemma that he confronts Prachi and questions her if she wants to leave him.
Prachi and Ranbir have an emotional confrontation where Prachi is herself going through a dilemma as if Ranbir will not marry Maya then Choubeys will hurt him and his family.
This is getting more intensified to watch what will be Prachi's decision or Ranbir will really leave Prachi post this major mishap.
Stay up to date with Serialgossip.com for popular top TV shows and Hindi serial.
Latest Kumkum Bhagya Updates