Preeta turns bold for Karan to show Mahira her real nasty place in Kundali Bhagya (Upcoming Twist)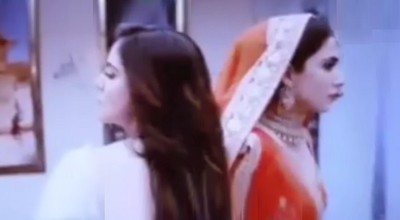 Preeta turns bold to show Mahira her real place big dhamaka in Kundali Bhagya
ZEE top TV show Kundali Bhagya is finally going to see Karan and Preeta's love in the air.
Karan is marrying Mahira where Kareena has smartly separated Karan and Preeta.
Preeta attends Karan and Mahira's wedding to show Karan that she doesn't care for him anymore.
Karan gets furious yet desperate to hug Preeta that he confronts Preeta and dances with her.
Karan not only reveals his hate for Preeta but he also taunts her that he is marrying Mahira.
Big twist in Kundali Bhagya will come now when Preeta will turn bold to get Karan back in her life.
Preeta and Mahira's major confrontation
Preeta has determined to get her love Karan back that she confronts Mahira just before the final wedding rituals to begin.
Preeta will now show Mahira her real place while Preeta proves her valid and legal wife relationship with Karan and if Mahira married Karan then she will get nothing.
Mahira will now step back and this will now call for Karan and Preeta wedding in Kundali Bhagya.
Keep reading entertainment news website Serialgossip.com for more quick updates on top TV shows and popular Hindi serials.
Latest Kundali Bhagya Updates