Kasauti Zindagi Ki 2: Bajaj push back Nivedita leaves her embarrassed (Upcoming Episode)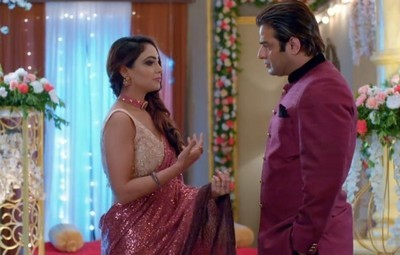 Kasauti Zindagi Ki 2: Bajaj (Karan Patel) push back Nivedita (Pooja Banerjee) leaves her embarrassed
The upcoming episode of Star Plus popular show Kasauti Zindagi Ki 2 will showcase interesting twist and turn.
As per the recent episodes of Kasauti it was seen that Mohini wants Nivedita to get married to Bajaj to reap benefits from him.
Mohini hates Prerna with Bajaj and plans a separation track ahead creating misunderstanding between them.
However Mohini is unaware that Bajaj loves Prerna and he hates women who try to lure him.
While Mohini wants Nivedita to get Bajaj towards her and she begins her work.
Nivedita falls on Bajaj where he holds her but makes her away.
Nivedita's trick fails on Bajaj
Nivedita tries to stick around Bajaj where Bajaj gets hint of what's coming towards him.
Smart Bajaj pushes Nivedita away where she comes to know that Bajaj is not an easy man.
What will Mohini and Nivedita do now to get Bajaj in their life?
Keep tuned to serialgossip.com for more updates.
Latest Kasauti Zindagi Ki 2 Updates