Ishq Mein Marjawan 2: Ridhima backstabs Vansh to turn Muslim girl for Kabir (Upcoming Episode)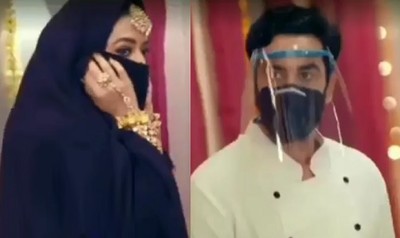 Ishq Mein Marjawan 2: Ridhima turns Muslim girl to elope with Kabir big dhamaka in wedding
Ishq Mein Marjawan season 2 is going to see Vansh-Ridhima's wedding.
Kabir gets in action mode as soon as he learns about Ridhima and Vansh's wedding.
Kabir doesn't want to lose Ridhima while Vansh is adamant to marry Ridhima and trap her in VR mansion.
Things take troll when Ridhima is left with no option rather than marrying Vansh and to give up on Kabir's mission.
Ridhima soon gets to know about Vansh hid his all secrets in a pen drive thus she agrees to marry Vansh.
Vansh and Ridhima's wedding
Ridhima will now take a shocking step when she hides herself inside naqab while sneakily gets out of VR Mansion.
Ridhima will backstab Vansh in the wedding mandap and will thus elope with Kabir, who has taken a disguise to get Ridhima safely out of VR mansion.
This is getting more and more interesting to watch what will happen now in the show amid Ridhima elopes with Kabir.
Stay up to date with Serialgossip.com for popular top TV shows and Hindi serial.
Latest Ishq Mein Marjawan 2 Updates