KumKum Bhagya New Promo: Ranbir Prachi's marriage twist Abhi Pragya Rhea shocked (Upcoming Twist)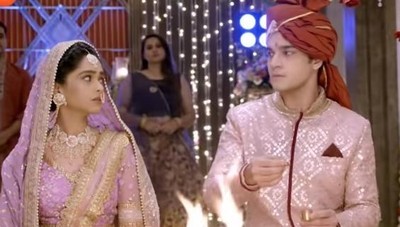 KumKum Bhagya New Promo: Ranbir (Krishna Kaul) Prachi's (Mugdha Chaphekar) marriage twist Abhi Pragya Rhea shocked
As per the latest promo of ZEE TV popular and longest running serial KumKum Bhagya, viewers will get to see marriage twist Ranbir and Prachi.
It seems Ranbir does not want to marry Maya and get stuck with her for entire life regretting true love for Prachi.
Ranbir thus compels Prachi to marry him.
Ranbir questions Prachi is she loves her when Prachi accepts love and agrees for marriage.
Prachi sits in wedding mandap with Rabir and gets ready for marriage.
Rhea stops Ranbir and Prachi's marriage
Ranbir was about to fill Prachi's hairline with sindoor when Rhea marks her entry and stops the marriage.
Further Abhi and Pragya too gets shocked with the development.
It would be really interesting to see what happens next on the show.
Will true lover Ranbir and Prachi be able to unite in love marriage?
Let's wait and watch for the upcoming story in KumKum Bhagya.
Latest Kumkum Bhagya Updates