Shaadi Mubarak: Preeti's rejection to KT ending everything before start (Upcoming Episode)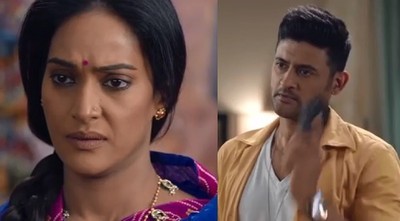 KT (Manav Gohil) surprises Preeti (Rajashree Thakur) with a beautiful proposal in Shaadi Mubarak
The upcoming episode story of Shaadi Mubarak, the new TV series is going to see the new start of KT and Preeti's life.
KT and Preeti both want to explore a whole new world where they want to establish their new image and live an independent and proud life.
KT gets upset on seeing Preeti's insult when Chanda calls her thief and refuses to take her on the job.
KT thus gets an idea of establishing a wedding planner firm.
KT loves the ideas and the unique mindset that Preeti has and finally he decides to make her business partner.
What will happen next in Shaadi Mubarak is going to get hard for KT to digest as Preeti rejects KT's business proposal.
KT and Preeti's major breakdown
KT wants to help Preeti but Preeti doesn't want to have anyone's sympathy.
Preeti denies the offer of KT where Preeti's such decision ends everything before the start.
This is going to be interesting to watch how KT and Preeti will face another major breakdown and how they will come together for the Shaadi Mubarak.
Stay tuned with serialgossip.com for more twists and turns of top TV serials.
Latest Shaadi Mubarak Updates