Choti Sardarni: Meher Manav recreate love before Sarabjit Aditi (Upcoming Story)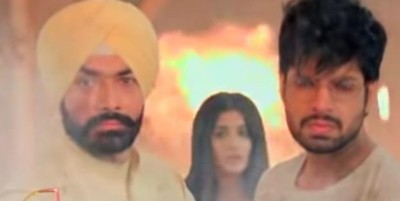 Choti Sardarni: Meher (Nimrat Kaur Ahluwalia) Manav (Hitesh Bhardwaj) recreate love before Sarabjit Aditi
The upcoming episode of Colors popular TV serial Choti Sardarni will showcase interesting twist and turn.
It seems Vikram's parents comes to Gill Mansion and talk about Aditi and Vikram's alliance.
Sarabjit and Meher manages to convince Vikram's parents.
Panditji asks for Meher's marriage Chunri and asks her to handover the same to Aditi.
Meher brings two chunri and recalls her marriage with Sarabjit.
Further Meher also recalls her love with Manav seeing Chunri given by Manav.
Meher part ways with Manav's Chunri
Shockingly Manav also gets flashback seeing the Chunri and recalls the same.
Meher parts away with Manav's Chunri and gives it to Aditi.
It would be really interesting to see if Vikram is really Manav or someone else.
Keep reading serialgossip.com for more updates.
Latest Choti Sardarni Updates