Yeh Rishta Kya Kehlata Hai: Paternity test to prove Krish is Aditya's son crack amid Naksh Keerthi (Upcoming Episode)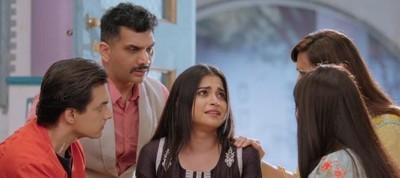 Yeh Rishta Kya Kehlata Hai: Paternity test to prove Krish is Aditya's son crack amid Naksh (Shehzad Sheikh) Keerthi (Harsha Khandeparkar)
The upcoming episode of Star Plus longest running serial Yeh Rishta Kya Kehlata Hai will showcase shocking twist.
Naksh kicks Keerthi out of his house post Krish and Aditya's truth gets revealed.
Keerthi hence comes to Goenka Mansion where she unfolds the real truth of Aditya.
Aditya thus makes his entry in Goenka Mansion where he requests Keerthi to give him Krish.
Naksh shocked with Aditya's new claim
Naksh also makes his entry where Aditya demands for paternity test to prove that Krish is his son.
It would be really interesting to see if Naksh too agrees for this test or no.
Will Naksh trust Keerthi or will he trust Aditya?
Will this lead to crack amid Naksh and Keerthi?
Keep tuned to serialgossip.com for more updates in YRKKH.
Latest Yeh Rishta Kya Kehlata Hai Updates