Yeh Rishta Kya Kehlata Hai: Naira's fake pregnancy evil Aditya plans to trap Kartik (Upcoming Twist)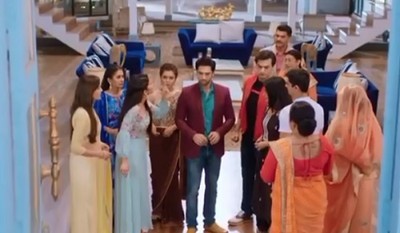 Naira (Shivangi Joshi) and Kartik's (Mohsin Khan) major step post Keerti's major breakdown in Yeh Rishta Kya Kehlata Hai
Hindi serial Yeh Rishta Kya Kehlata Hai is going to see major ups and downs in the story.
Aditya is back in Keerti and Naksh's life where now he crosses his limit to trouble Keerti.
Aditya exposes his and Keerti's meetings where angry Naksh makes Keerti leave the house.
Heartbroken Keerti reaches Goenka house where Aditya also follows her and create his new emotional drama.
Kartik and Naira confront evil Aditya for trying his dirty tricks again while Naira who is shouting in anger gets uneasy while the family comforts her revealing her pregnancy.
What will happen next in Yeh Rishta Kya Kehlata Hai is quite hard to gulp as Naira is not really pregnant but Aditya who learned new news from Goenkas will plan his game against Kartik.
Kartik and Naira's new challenge
Aditya is going to take advantage of Naira's fake pregnancy where his prime target will be Kartik.
This is going to be highly intensified to watch what big twists and turns are up to come in Yeh Rishta Kya Kehlata Hai and how Kartik and Naira will face their new challenge.
Stay tuned to Serialgossip.com for more updates and latest news of top TV shows.
Latest Yeh Rishta Kya Kehlata Hai Updates