Yeh Rishtey Hai Pyaar Ke: Mishti oppose Meenakshi's wrong demands refill sense in Kunal (Upcoming Episode)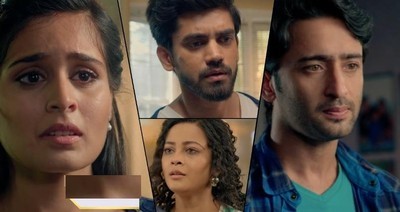 Yeh Rishtey Hai Pyaar Ke: Mishti (Rhea Sharma) oppose Meenakshi's (Rupal Patel) wrong demands refill sense in Kunal (Avinash Mishra)
The upcoming episode of Star Plus serial Yeh Rishtey Hai Pyaar Ke will showcase interesting drama.
It seems Kuhu leaves Rajvansh Mansion over Kunal's wrong demand from her of being a surrogate to Abeer Mishti.
Kunal is very much upset as he wanted Kuhu to do something for Abeer Mishti and solve their problem by obeying Meenakshi.
Mishti learns about Meenakshi's wrong demands and decides to oppose her.
Kunal dances to Meenakshi's tunes and Mishti gets to know about the same and she stops him.
Mishti wants Kunal to not follow Meenakshi's wrong orders.
Mishti asks Kunal to bring Kuhu back home
In fact Mishti refill sense in Kunal and asks him to get Kuhu back home.
It would be really interesting to see what Meenakshi will do now to fulfil her own selfish demand.
Keep reading serialgossip.com for more updates.
Latest Yeh Rishtey Hai Pyaar Ke Updates