Yeh Rishta Kya Kehlata Hai: Naksh kicks Keerthi out of Singhania House (Upcoming Episode)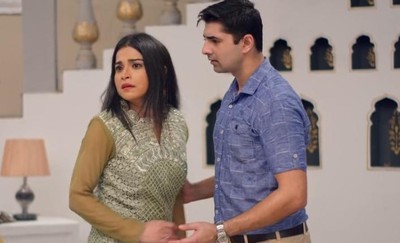 Yeh Rishta Kya Kehlata Hai: Naksh (Shehzad Sheikh) kicks Keerthi (Harsha Khandpekar) out of Singhania House
The upcoming episode of Star Plus longest running serial Yeh Rishta Kya Kehlata Hai will showcase interesting twist and turn.
Naksh gets Krish and Aditya's photo where he wants answer from Keerthi.
Keerthi hides this big truth from from Naksh and wants to handle the same in her own way.
However Naksh finally loses his temper and confronts Keerthi over the reality.
Looks like Keerthi reveals the entire truth to Naksh.
Naksh fails to tolerate Aditya and Keerthi's truth
Naksh fails to bear the truth that Krish is Aditya and Keerthi's son.
Hence Aditya wants his son Krish back.
Naksh cannot tolerate anymore and thus kicks Keerthi out of his house.
What will Keerthi do now?
Let's wait and watch for the upcoming drama in YRKKH.
Latest Yeh Rishta Kya Kehlata Hai Updates