Yeh Rishtey Hai Pyaar Ke: Abeer raise hand on Kunal shocked Mishti (Upcoming Twist)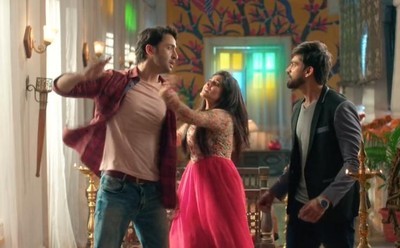 Yeh Rishtey Hai Pyaar Ke: Abeer (Shaheer Sheikh) raise hand on Kunal (Avinash Mishra) shocked Mishti (Rhea Sharma)
The upcoming episode of Star Plus serial Yeh Rishtey Hai Pyaar Ke will showcase interesting drama.
It was earlier seen that Kunal asks Kuhu to turn Mishti and Abeer's surrogate mother.
Kuhu rejects this idea and break ties with Kunal.
Kunal is unhappy with Kuhu's move and tags her selfish for always thinking about self.
Kunal continues speaking ill about Kuhu where Abeer loses his temper.
Abeer is unable to bear more ill words about Kuhu and raises his hand on Kunal to slap him.
Mishti stops Abeer's wrong with Kunal
Fortunately Mishti stops Abeer on time and stops the fights.
It would be really interesting to see how Abeer and Mishti handle this fight.
Stay tuned and keep reading serialgossip.com for more updates.
Latest Yeh Rishtey Hai Pyaar Ke Updates